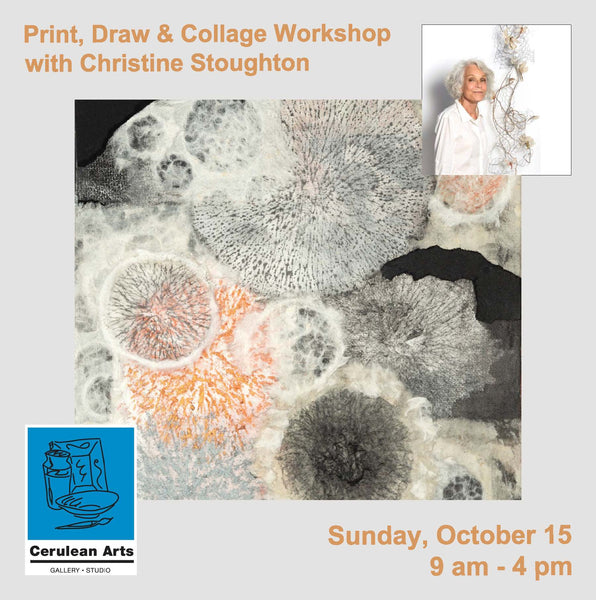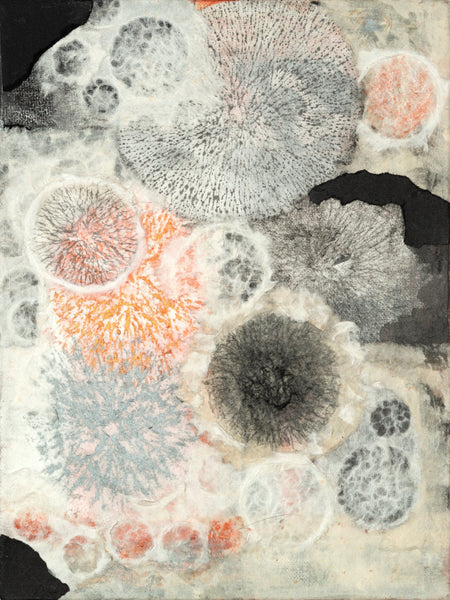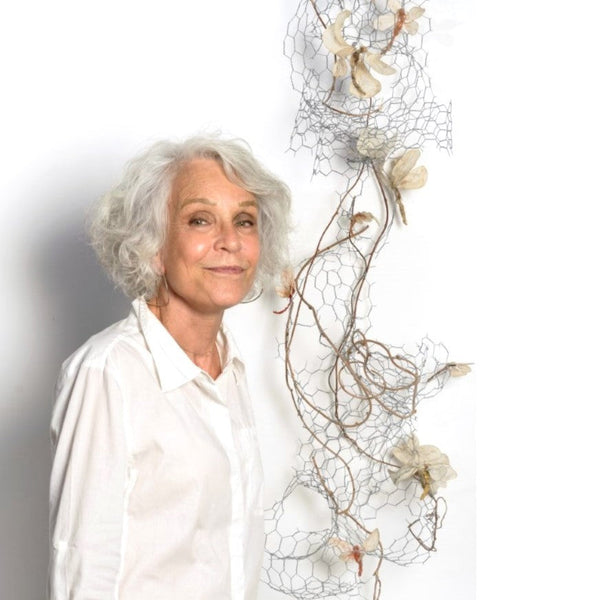 Print, Draw & Collage Workshop with Christine Stoughton
Join Cerulean Collective artist Christine Stoughton and explore the combined disciplines of drawing and printmaking in the making of a collaged image. The morning session will include demonstrations and experimentation with the following techniques: dark and light field monotypes (with examples from  Edgar Degas), trace monotypes (with examples from Gauguin and Paul Klee), chine colle,  wood grain printing, and frottage.  The transfer of drawings to printed images using a release agent will also be taught. The afternoon session will focus on the students selecting those techniques of greatest interest and using them in creating their collage. No prior printmaking or drawing experience is required, and more advanced students are invited to further develop their knowledge of these techniques. 

The workshop will include a tour of Christine Stoughton's Cerulean Collective exhibition on view October 11 - November 5.
View/download the Materials List 
View/download the Cerulean Arts Class & Policy Guide 

Date:  Sunday, October 15, 2023
Time:  9 a.m. - 4 p.m. 
Fee:  $95 (plus $20 materials fee payable to the instructor)
Register by: October 6 (space is limited) 
Just one space remains - register today! 

Christine Stoughton is a visual artist and art educator living in the greater Philadelphia area. She is a member of the Cerulean Arts Collective.  She is a graduate of Pennsylvania Academy of Fine Art and has a PhD in Counseling Psychology from Boston College. She has taught printmaking in numerous academic institutions and community art centers and is currently an instructor of art aesthetics at the Barnes Foundation and St Joseph University. She works both in the two-dimensional and three-dimensional realm. She has exhibited both nationally and internationally in solo and group shows. Her belief is that art which contains an element of mystery is the art that is most engaging. She explores the concept of change and the ephemeral and references the natural world in her work. This work is strongly influenced by the knowledge gained through her experiences as a psychologist, teacher, and mother.